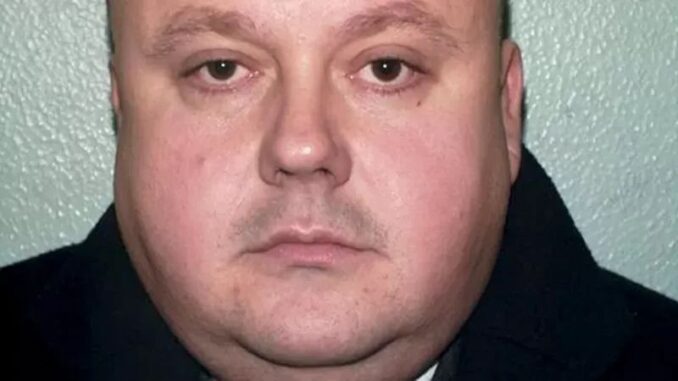 Nin lagu magacaabo Levi Bellfield oo lagu helay inuu dilay saddex qof, isla markaana xabsi daa'in ku gudunaya jeel ku yaalla Britain ayaa wasaaradda cadaaladda ee waddankaas ka codsaday in loo guuriyo.
Ninkan oo 53 jir ah ayaa doonaya inuu guursado saaxiibtii, waxaa se uu u baahan yahay inuu oggolaansho ka helo madaxa xabsiga HMP Frankland ee deegaanka Durham.
Wasiirka xabsiyada UK, Victoria Atkins, ayaa dalbatay in si degdeg ah loo qiimeeyo codsiga ninkaas.
Waxa ay sheegtay in dilaaga uu xaq u leeyahay inuu guursado sida ku cad qodobka 12-aad ee Xuquuqda Aadanaha, isla markaana uu guurkiisa dhici doono haddii loo oggolaado.
"Waan soo dhaweynayaa doodda ku aaddan xuquuqda asaasiga ah iyo xuquuqul insaanka UK u yaalla qarniga 21-aad. Waa dhab in aan arrintan ka hadli doono," ayay tiri.
Wasiirkii hore ee xabsiyada, Robert Buckland, ayaa u sheegay wargeyska the Sun oo u horreeyay warbaahinta tebisay warkan in codsiga Bellfield uu yahay mid fursaddiisu yartahay.
The Sun ayaa tebisay in Bellfield uu haweenayda bartay inuu uu xabsiga ku jiray, isla markaana ay booqan jirtay labadii sano ee la soo dhaafay.
Bellfield ayaa 14 sano lagu helay inuu dilay saddex qof oo kala ah: Marsha McDonnell, Amelie Delagrange iyo Milly Dowler.
Waxa uu horay u ahaa waardiye baar lagu caweeyo, waxaana uu 5 haween oo kala duwan ka dhalay 11 carruur ah.
Haweenkaas oo u warramay qof dembi baare ah ayaa sheegay in markii hore uu ahaa nin wanaagsan, balse uu markii dambe noqday "mid shar badan."
Haddii loo oggolaaday inuu guursado, waxaa looga baahan yahay inuu bixiyo kharashka arooska, gaar ahaan haddii uu ka dhacayo meel ka baxsan xabsiga.
Charles Bronson oo xabsi daa'in ku xukuman ayaa sanadkii 2017 loo oggolaaday inuu guursado haweeney lagu magacaabo Paula Williamson oo ay muddo waraaqo jaceyl isu qorayeen.
Haweeneydaas ayaa sanadkii 2019 u sheegtay wargeyska the Sun in ay dalbatay in laga furo ninkaas, bil kadibna waxaa la hekay meydkeeda, iyadoo 38 jir ah. Baaritaan la sameeyay ayaa lagu ogaaday in ay sun cuntay.
Charles Manson oo maxkamad ku taalla Maraykanka ay ku heshay inuu dad laayay, kuna dhintay xabsi ku yaalla California sanadki 2017 ayaa guur kula heshiiyay gabar lagu magacaabo Elaine Burton.
Gabadha ayaa dilaagaas xiriir la bilowday sanadkii 2007, iyadoo 17 jir ahayd. Shahaadada "nikaaxooda" ayaa dhacday ka hor inta aanay is guursan.